Nov 22, 2015 (updated 2022) –
WELCOME TO THE CHICAGO 'QUOD STYLE PIZZA PAGE!
aka: The Quod – A Modern Take on Deep Dish Pizza
** 2020 UPDATE – This article has a lot of updates, including updated baking instructions and links to the older recipes if you liked one of those better **

There is a style of Chicago Pan Pizza that is distinct from the Original Deep Dish that you know from places like Lou Malnati's, Pizano's, Louisa's, Gino's East, and Pizzeria Uno.
The style I'm talking about is the pan pizza you find at Pequod's in Chicago and Morton Grove, IL, and until recently*, Burt's Place in Morton Grove.
*UPDATE – Burt's was closed in 2015, but has been reopened under new management in 2017.*
I call this style "Modern Deep Dish" to distinguish it from "Original Deep Dish". (More recently, it has also been called Caramelized Pan Pizza.)
Before you ask… Yes, a pizza style invented over 4 decades ago (1971) is considered relatively "modern" since Original Chicago Deep Dish was invented more than 70 years ago in 1943.
For brevity (and because it is fun to say), we can just call it…
The 'Quod.
[ AKA Caramelized Pan Pizza ]
OLDER RECIPE VERSIONS:
The Quod: 2015 (PDF)
The Quod: 2012 (PDF)
This style of pizza is like a hybrid between Chicago Deep Dish, Detroit Style & NY Sicilian pan pizzas. Like a deep dish, the pizza has cheese on the bottom, sauce on the top, and is baked in a round pan. Like the Detroit style (and also Sicilian squares – like L&B Spumoni Gardens), it has a thicker, more pillowy dough, and a caramelized crust, which is created when the cheese and sauce run down the gap between the pan and the outer edge of the pizza dough during baking.
---
The 'Quod was invented by Burt Katz, the original owner of…
Pequod's was opened Morton Grove, IL by career pizza purveyor Burt Katz in 1971.
Burt sold Pequod's in the mid 1980's to Keith Jackson, who would later open a second location in Chicago in the early 90's. Before the second location of Pequod's opened, Burt got back into the pizza game in the late 80's, when he opened up Burt's Place a few streets down from the original Pequod's in Morton Grove.
** 5-1-2016 UPDATE – Burt Katz has passed away.
We are fortunate to have his last interview in late April 2016 from the CHEWING podcast: https://itunes.apple.com/us/podcast/episode-6-nostalgia-burts-pizza/id1045316879?i=1000367453353&mt=2
REST IN PEACE, BURT, AND THANK YOU.
---
Is there a difference between the pizzas from Pequod's and the pies that Burt was serving up?
Yes, but not much. It seems that the main difference is that Burt took more time and care to balance all the ingredients of his pizzas, while Pequod's had, out of necessity (and popularity), turned into a bit of a pizza production house, tweaking the recipe along the way with a sweeter sauce.
Check out this great account from LTHF Forum member Josephine who, along with fellow LTHF member Cathy2, visited both locations in Morton Grove for their own personal pizza throw-down. There is a well documented evaluation of Burt's and Pequod's in her post, and I highly recommend reading it after you finish reading this.
---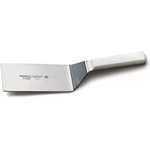 Dexter Russell P94855, Hamburger Turner, 6″ x 3″ Blade, White Handle – 31645 – $16.65
from:
Kerekes kitchen & Restaurant Supplies
---
HOW TO MAKE A 'QUOD:
The 'Quod is assembled in relatively the same way as Original Deep Dish – dough on bottom, then the cheese, then the sauce. Other topping locations vary.
There are a few distinct differences.
The first difference is the dough.
Pequod's has a thicker, pillowy raised crust, resembling something closer to a square Detroit or Sicilian style crust (think L&B Spumoni Gardens), but instead of a big rectangular pan, it is baked in a round deep dish pan.
This dough has been kneaded longer than a traditional deep dish dough and has more in common with basic pizza dough or Chicago Thin Crust dough.
The second difference, and unique to this style of Chicago pizza, is the caramelized cheese on the outer crust.
This is created by draping cheese all the way up the edges of the pizza pan (see photo below), which melts down into the outer edge of the dough, along with some of the sauce during baking and chars to perfection. This characteristic will either make you love or hate this pizza, depending on your tastebuds.
Want to try making this style at home?
Download the recipe at the link below the food porn.
---
SOME TIPS AND ADVICE:
The Dough goes down first! THEN, you put down the cheese!
In that photo up there, it may have been difficult to tell, but there IS dough under that cheese.
* SUPER IMPORTANT STEP FOR CARAMELIZING: *
Do not press the dough all the way to the edge of the pan.
Leave a little gap for the cheese and sauce to do it's magic on the outer edge.
Spread the sauce out over the top of the cheese, as far to the edge as you can without going all the way up the side. The amount of sauce will depend on how much water is in your sauce, so just use enough to cover the cheese without drowning it.
PRACTICE. This style is not for beginners, but if you are one, give it a try! If it doesn't come out perfect the first time, it will probably still taste good. Then make adjustments for your ingredient amounts, oven temp and baking time… and try again!
Here's a video from Chicago's Best for inspiration:
---
Hey look! A Non-Traditional Chicago Style Modern Deep Dish Pizza Recipe!
OLDER RECIPE VERSIONS:
The Quod: 2015 (PDF)
The Quod: 2012 (PDF)
You can also use the RDD Quick Dough for this style!
If you are familiar with the Chicago Thin Crust Dough Recipe from this website, you'll notice that the dough recipes will be very similar. It's practically the same dough, except you're using the same amount for a 12″ round 'Quod pan pizza as you would for a 14 to 16 inch Chicago Thin Crust pizza.
The recipes and content on this website will always be free.
Help us keep the lights on. Thank you!