Hi. Welcome to
Deep Dish 101: Lesson Four – Nuts and Bolts.
In the previous lesson, I told you about the main styles of Chicago Pizza : Thin crust (tavern style, box-cut), Deep Dish, and Stuffed,
and then finally gave you a workable Deep Dish dough recipe with detailed instructions to make your deep dish pizza at home. Soon, I'll give you more on pizza assembly and dough preparation, but first I'd like to briefly go over a sometimes overlooked part of pizza-making.
I call this lesson "Nuts and Bolts" because I want to talk a bit about the hardware part of making deep dish pizza.
Without the proper hardware, you may not get good or consistent results with your pizzas. If, while impatiently waiting for the next DD101 lesson, you finally got around to reading The Pizza Rants like I told you to, you would know that one of the first things I did on my journey for the perfect deep dish pizza was to locate a deep dish pizza pan.
Do you REALLY need a special pan just for deep dish?
Yes and no.
Ideally, you want a pan that is sturdy and heats fast, hot and evenly.
Original deep dish pans were made of straight-sided round cake pans made of steel, possibly tin-plated, that, having been "seasoned" over time with repeated use, had darkened on the outside of the pan, helping it to absorb even more heat.
I use my 9″ Wilton dark non-stick cake pans all the time for deep dish, but I have a few lighter colored, super thin cheapo 8″ aluminum cake pans that don't work so well.
Is a darkened pan necessary for good deep dish pizza?
That depends on who you ask, but I'll say no, it's not a deal-breaker. I have a 12″ heavy-gauge silver-colored non-stick straight-sided cake pan that I've been using since day one of my deep dish baking excursion, and have found that it makes really good pizzas without having a super dark coating. Dark pans do, however, absorb heat faster, which could make your outer crust crispier than a lighter colored pan.
Why does a dark pan absorb more heat than a lighter one?
Ever go outside on a hot day wearing a black tee shirt? Dark colors absorb more light and heat than light colors. Isn't science awesome?
My optimal pan for deep dish pizza is a round steel cake pan with an aluminum coating (aka aluminized steel).
The steel is mainly for strength and the aluminum coating is for better heat conduction. Aluminum also extends the life of the pan, as it is corrosion-resistant. What happened to the tin-plated steel? Tin melts at about 450 degrees F, so I don't expect tin to be used widely in deep dish pans any more **(see note below), but many bakeware manufacturers interchange the words "tin-plated steel" with "aluminum-plated steel" or "aluminized steel", so you'll have to verify if your pan supplier is using tin or aluminum. Many modern varieties of this pan also have special coatings to improve durability and/or baking performance. PSTK (Pre-Seasoned Tuff-Kote™) is one of the popular coating processes. Allied calls their coating "Black Buster" and Chicago Metallic calls theirs "Bakalon".
** 1-28-2018 UPDATE: When provided with new information, I try to correct inaccuracies when I can. In an earlier "Pizza Rant" and on this page, I had mentioned that tin melts around 450 degrees F and that tin bakeware is not likely being made any more. I've learned that tin-plated bakeware IS still being made, and while it's true that tin melts at 450, it doesn't necessarily melt when baking a pizza in a tin-plated pan because the pizza (or whatever you're baking in the pan) contains moisture that acts as a heat-sink, sucking heat from the pan so it never reaches that melting point. Steel and Aluminum both have higher melting points, so if they were tin plated, the other metal would also assist in preventing the melting.  **
You can also still get the non-plated, or "bare/blue" steel pans from restaurant supply houses. Often, those pans have been coated in some kind of oil (or protective mystery substance) that must be baked empty, (preferably in a well ventilated area, or outside on your bbq grill), then cooled, before your first use.  This 'seasoned' coating will darken with use, improve the performance, and extend the life of your pan.
If your pan is bare or un-seasoned, you can do it yourself by applying a thin layer of vegetable oil, lard, or shortening (anything with a high-smoke point) to your pan, and pre-baking it like the method I described in the previous paragraph. You can also repeat this (as many times as you like) for a pan you just seasoned, but using the pan to make pizzas will also continue to season your pan. The more times you season your pan, the better your seasoning should be, and the darker your pan should get.
It is also recommended that once you have seasoned a pan, you should never use soap to clean it, only hot water and a non-abrasive scrubbing pad. If you do use soap on occasion to clean your pan, you can use a mild one, but then you may have to re-season your pan.
Straight or Slanted Pans?
Some pizza makers use straight-sided and some use slanted pans. The slanted variety might make it easier to remove a whole pie, although I have seen skilled deep dish bakers pop a deep dish out of a straight-sided pan with a trained flick of a wrist (unknown whether future wrist injuries have ensued). I own both and from my limited experience with the slanted pans, I don't think it makes that much of a difference which one you use. There are the minor adjustments needed for more or less dough, more or less ingredients, due to the slanted pans having that variable of about a half inch to an inch in size between the bottom of the pan and the top.
The Deep Dish Pan is only PART of the puzzle.
Of course, you'll want to invest in some serving tools, like a square-edge turner/pizza cutter/spatula, a pan gripper or two, a sauce ladle, and other stuff, some of which which you can find at: www.realdeepdish.com/deep-dish-equipment ,
but the other big part of the puzzle is:
YOUR OVEN
Optimizing Your Oven For Deep Dish:
It's pretty unlikely that you're going to shell out five to twenty grand on a commercial pizza oven, so we want to do the best we can to simulate the best characteristics of one with just a few tweaks to your home oven.
There's two things you can do that will make a huge difference.
1) Get a pizza stone (sometimes known as a baking stone) and keep it on the bottom rack of your oven.
2) Keep a sheet of heavy duty aluminum foil (or a baking sheet) on the top rack of your oven.
Along with preheating your oven to make sure the pizza stone is hot when you start baking, these two things should improve your efforts to simulate the effect of a commercial deck oven at home.
The inside of a deck oven is typically not very tall, so when you're trying to simulate one with a standard 30″ range, you may have to decide which position is best for that top rack aluminum foil radiant-heat "ceiling" that you are creating.
Keep in mind that all ovens are different, and you may need to make adjustments depending on the results you're getting, what altitude you live at, and how accurate your oven thermometer is.
Can I use the "Speed-Bake" or Convection Setting on my oven?
I don't recommend it. Convection baking typically bakes faster at a lower temperature by circulating the air inside the oven. Because of its density, a deep dish pizza may not cook evenly in the center. (Although I did read about this expensive spiky metal 'heat sink' that you can get that you place in the top center of your pizza and heats the center of your pizza so it cooks more evenly).
---
It's the amazing SPIKY METAL HEAT SINK!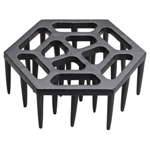 Merchant:Kerekes kitchen & Restaurant Supplies
$38.99
Winware by Winco
---
** After I wrote this Lesson, I wrote a little DD101 Extra followup article on how to pizzafy your oven.
You can click HERE to view it.
This article previously had some recommendations for deep dish pans and equipment, but unfortunately, the affiliate program for ABestKitchen has been discontinued, as the restaurant supplier has closed. Some of the brands of bakeware listed below may still be available from other vendors:
I'm a big fan of American Metalcraft  (also known as AMCO) pans. Depending on the coating, they don't get much darker from repeated use, but heat up quite well and have made many a tasty deep dish in my home.
Chicago Metallic is also a great brand for bakeware.
Find deep dish equipment options, check out the link below:
https://www.realdeepdish.com/deep-dish-equipment
Deep Dish 101 – Lesson 3 : Styles of Chicago Pizza and Maybe a Dough Recipe

Deep Dish 101: Lesson 5 – Making Deep Dish Dough – VIDEO
If you enjoy the content and/or recipes
from this fantastic website,
please consider making a donation to $realdeepdish on CashApp
to help this website's creator keep the lights on. Thanks!